Hadfield Agency, Inc. is an independent, multi-line insurance agency with a long history of dedicated service to policyholders.
Harry P. Hadfield acquired the L.C. Holman Agency in 1946 and the name changed to Hadfield Insurance Agency. Harry was later joined by his son, Charles W. Hadfield, Sr. In 1980 the current owner, Charles (Chuck) W. Hadfield, Jr joined the agency after graduating with honors from the University of Arkansas with a business degree, majoring in insurance and finance. In 1999, Charles (Charlie) W. Hadfield, III was the fourth generation to join the agency and Charlie has learned all aspects of the business from his first role as file clerk to his current position of Vice President.
Today, Hadfield Agency, Inc. has 8 employees with more than 100 years of combined experience in service to policyholders. Both management and staff are involved in continuing education in order to stay abreast of changes in the industry. Chuck and Charlie Hadfield, agency operations manager, hold a Certified Insurance Counselor designation. The CIC designation signifies that an individual working in this field has attained comprehensive insurance knowledge by virtue of completing the 5 institutes that comprise the program. Because of its unparalleled standards, CIC has become the nation's premier designation program for insurance professionals!
Throughout the years since 1946, the agency has operated under the name of Hadfield Insurance Agency, Hadfield and Ray, Inc., Hadfield and Williams, Inc and now operations under the current name of Hadfield Agency, Inc. The years have seen these name changes due to mergers, acquisitions and dissolved partnerships, but the Hadfield name and the family involvement has remained constant since the early days in 1946. The agency has been and will continue to being committed to providing high-quality insurance coverage that meets and even exceeds customer expectations both in service and in valve.
Why do business with Hadfield Agency?
Unlike a captive, or direct insurance company who only offers their own proprietary products, our agency is 100% independent of any one company. Many insurance consumers don't fully understand just how important that really is.
When it comes to something as important as insurance, it's imperative that you work with an agency who has an in-depth knowledge of multiple insurance products, companies, and guidelines — not just one.
At the end of the day, what separates one agent from another, is their ability to proactively service their policy holders, and their knowledge of the insurance industry, products, and different situations that may present themselves to their clients.
Independent Agent Vs. The Rest
Here is a quick comparison of the differences between an independent agency like us, and the various other types of companies that are out there: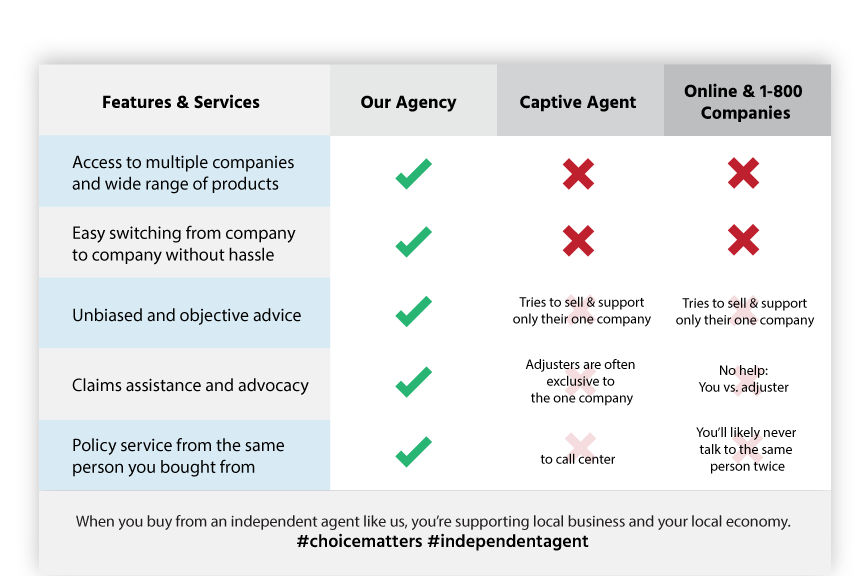 If you'd like to get started with a complimentary quote and/or policy review, we'd be happy to help you any way we can. Simply complete the fields below to get started online in a matter of seconds.
We appreciate the opportunity to help you, and look forward to servicing your insurance needs! Feel free to call us directly if you have more detailed questions.